Live Report: Clammbon at Kaminari 5656 Kaikan in Asakusa, August 29–30, 2013
October 11, 2013
So I've been a Clammbon fan for 13 years, ever since my serendipitous encounter with their music on my first-ever visit to Japan. At some point they became my favorite band, and I started maintaining this fan site to spread the word about them 10 years ago. But except for a fleeting half hour or so that barely counts, until recently I had never managed to see them in concert. Somehow my nearly-annual trips to Japan just never seemed to line up with a Clammbon show.
Afraid that that might remain the case forever, after viewing one of my collection of Clammbon concert deeveedees I marched into the next room to make a declaration to my wife: "I am gonna see Clammbon play live someday before I die." She took it in stride, casually suggesting that we wait until they announce dates for their next tour and then buy plane tickets.
All right. That was easier than I'd expected.
After a tense wait, Tokyo dates came out for the "Where Shall We Play Tour 2013". On these tours, the band solicits ideas from their fans for unique and intimate venues where you wouldn't normally go see a rock & roll show. A 1900s drama theater, the school that inspired the anime K-On, a former hostess club… the more unusual, the better. The shows I was aiming for were a pair of nights in Asakusa at a traditional theater in a community center, capacity 325. This is a band that these days can draw several thousand fans to an outdoor venue like Yomiuri Land East or the Ryougoku Kokugikan. Seeing them in such close quarters would be a treat indeed. It was too late to go through the byzantine process to join the fan club and get early ticket access, so I took my chances with the similarly byzantine public ticket lotteries… and somehow secured a ticket for each night. Twitter was crowded with people disappointed that they'd failed to get even one ticket, so I felt miraculously lucky.
Hop forward several months and I am in Tokyo, my three-week stay nearly at an end. I forgot to charge the wi-max receiver, so I had to navigate to Asakusa and to the theater without Internet access. Of course I got wildly lost and was almost late for showtime.
Kaminari 5656 Kaikan: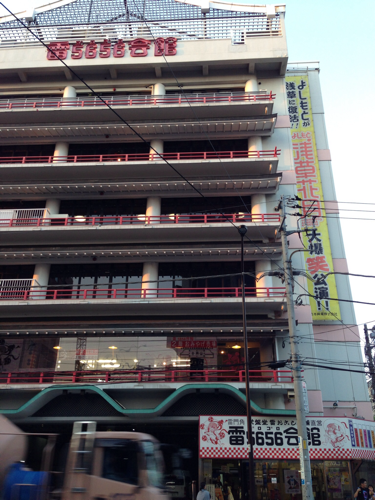 Not a lot of people in front of me: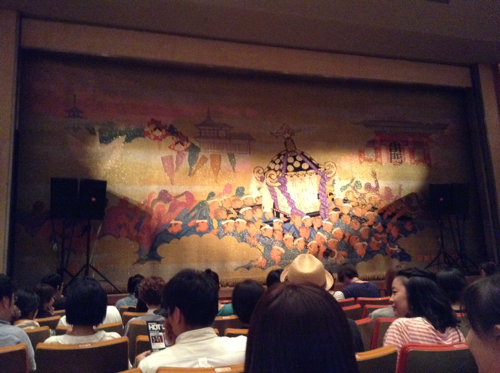 Not a lot of people behind me either: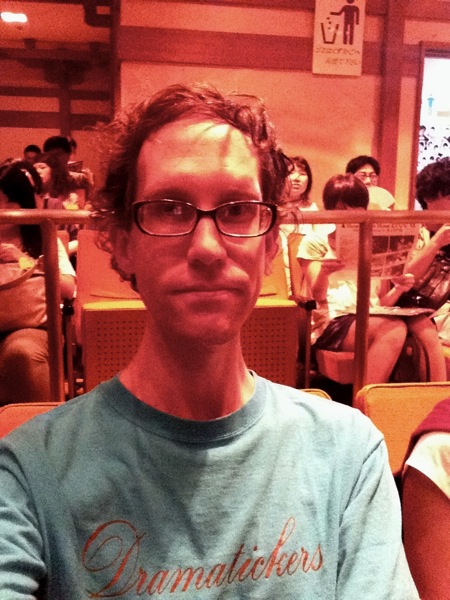 When the curtain rose, we saw not Clammbon but this woman sitting in the middle of the stage in kimono, among all the rock & roll gear. She quickly assured us, "don't worry, this is a Clammbon concert. But to get you into the Asakusa spirit, I'll be playing you a few songs first." It was Hirayama Yoshiko, a shamisen player. (Photo from Mito's tweet.)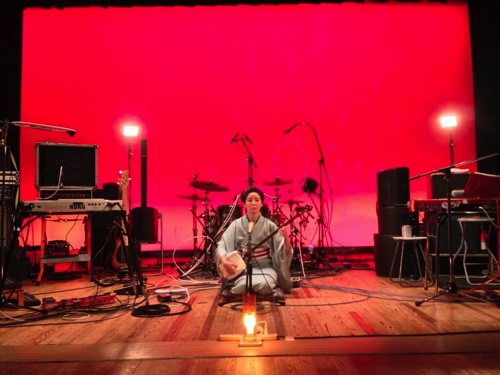 After two lively shamisen songs, the band showed up on stage and I had my first really emotional moment. I was in the same room as Clammbon! It was real. I got a little misty.
**August 29th Setlist **
(Image from Mito's tweet)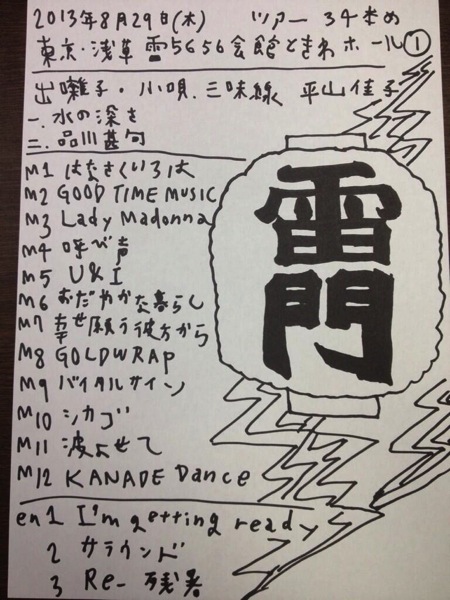 Intro by Hirayama Yoshiko
Mizu no Fukasa
Shinagawa Jinku
Main Set
Hanasaku Iroha
Good Time Music
Lady Madonna
Yobigoe
U&I
Odayaka na Kurashi
Shiawase Negau Kanata kara
Goldwrap
Vital Sign
Chicago
Namiyosete
KANADE Dance
Encore
I'm Getting Ready
Surround
Re-Zansho
The banter started early, with Mito and Ikuko observing that Daisuke has been inserting unexpected drum breaks at dramatic moments in certain songs lately. But Daisuke clarified that usually it's just because he dropped a stick.
On "Lady Madonna", which has some incorrect lyrics on the album version ("feel" instead of "feet", for instance), Ikuko sang the correct lyrics! She must have been clued in some time since the album was recorded.
Mito introduced "Goldwrap" as an exceptionally difficult song to play, especially on piano. Ikuko had to stand up from her seat to play it, and you could tell that it took all the fierce concentration she could summon. The song went very well, and at the end the audience applauded all the more for knowing what a challenge it was. She melodramatically basked in the response.
Much of first night's set felt pretty mellow and straightforward, probably because of the gentle setlist flow, including a string of moderate-energy covers. People sat down for much of the first half. The people around me weren't all that active, so I didn't allow myself to get too carried away with dancing and singing along.
Once it came to "Vital Sign" and "Chicago", though, the place seemed to really come alive. I found myself crying again now that I was witnessing such Clammbon classics in person. When Mito smashed his bass against the speaker cabinet at the climax of "Vital Sign", I could see wood splintering off of it. The rest of the main set carried that energy onward and made me wish the whole show had been that way. For "Nami Yosete", the band got everyone swaying and singing the chorus together.
After the break, the band members each came out in a differently-colored Clammbon shirt, drying off with a Clammbon towel. Ikuko completed the merchandise plug by pretending to answer a call on her phone, enrobed in a Clammbon iPhone case. I always knew it, but Mito imploring us to buy merch if we enjoyed the show and wishing that he could afford a really nice traditional Asakusa meal reminded me that that bands of this scale don't make a ton of money.
For the encore, Mito gave us an extended lesson in gospel backup singing so that we could help out with "I'm Getting Ready". He divided the audience into male and female singers, encouraging the males to "pretend to be about 20 kilograms heavier" in order to make up for the feminine bias of Clammbon fans. It felt a bit odd to be the one Westerner in the room, singing that English backup vocal with perfect pronunciation.
"Re-Zansho" was a special treat that the band broke out for the first time this tour, judging that it was about the right time to begin performing a song about lingering late-summer heat. And the emotional intensity of it was just right to finish off the show.
I made my way to the merch table for a shirt and iPhone case of my own. The prices (¥2500 and ¥3500) were of course kinda absurd, but I see it as more of a donation than a purchase. I'm quite willing to pay an extra pile of yens to a band that's brought me this much happiness.
**August 30th Setlist **
(Image from Mito's tweet)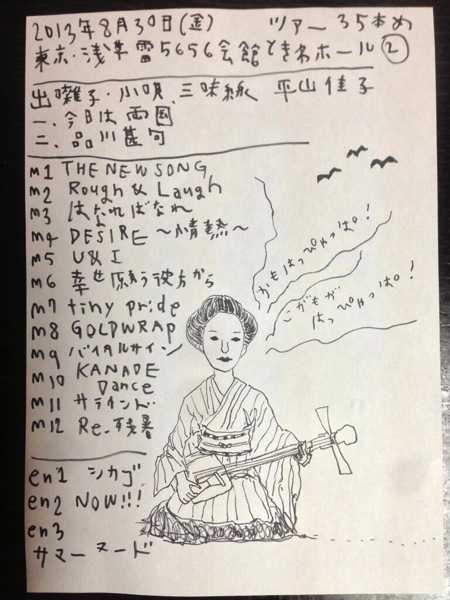 Intro by Hirayama Yoshiko
Kyou wa Ryougoku
Shinagawa Jinku
Main Set
The New Song
Rough & Laugh
Hanare Banare
Desire -Jounetsu-
U&I
Shiawase Negau Kanata kara
Tiny Pride
Goldwrap
Vital Sign
KANADE Dance
Surround
Re-Zansho
Encore
Chicago
NOW!!!
Summer Nude
On the second night it was just outrageously hot, and everyone was obviously feeling it. I got the sense that instead of trying to keep cool, the band and the audience both kinda just gave up and accepted that they'd be sweaty and gross anyway, and allowed themselves to rock out to the max.
Clammbon's second night in Tokyo is a special moment of the tour. The band had gotten to sleep in their own homes for the first time in months. They could leave their equipment set up overnight, and didn't have to worry so much about the sound setup or technical problems. So the feel of the show was more confident, more warmed-up, and more fun. The setlist had a more energetic and playful flow, too, with several pretty intense high points: "Tiny Pride", "Re-Zansho", and an ecstatic performance of "Summer Nude".
I was in the very back row this time, allowing me to see the entire crowd and pick out all the most energetic people to relate to. The people around me, too, were more enthusiastic than my neighbors on the first night. This all made it easier for me to get really into the show. Two girls on my left were talking excitedly throughout the night, and spread out into the aisle so that everyone could dance. The guy on my right seemed like a typical suit-wearing salaryman on his own, reserved to the point that I wondered what he was even doing at a rock & roll show. But once the set started, he was as exuberant as anyone in the room, bouncing around and singing along and having the time of his life.
During her introduction, Hirayama Yoshiko apologized for playing one of the same songs from the previous night. She polled the audience for who had been there, and quite a few people responded. I had been worried that it might be frowned upon to get tickets to both nights and thus deprive somebody else, but apparently it's not a big deal. (Besides, I'd waited 13 years for this!)
The most memorable banter was during "Desire", when Ikuko encouraged the crowd to snap along with the beat. The song has a detached 80's coolness to it, so she coached us in how to snap casually — turn to the side, put on a bored expression, and make your snaps just barely audible. I did my best, and the girls next to me took notice of my technique!
When it was done, I thought I might exchange some impressions with some of my neighbors, or at least a knowing, satisfied look. But the girls simply agreed to each other, "I'm full!" and disappeared, while the guy put on his jacket, transformed back into an ordinary salaryman, and scurried out. If I have one major regret about this whole concert experience, it's that I didn't get to make any personal connections to anyone. It could be partially because Japanese culture isn't big on connecting to strangers. It could be partially because Clammbon fans in particular are kinda nerdy and shy. And it could be because I'm a foreigner and thus difficult to approach. In retrospect maybe I should have broken the ice by joining in with the fans who spontaneously started singing "Bass, Bass, Bass" in the merch line.
In any case, it was an experience that will stay with me forever, that permanently connects me to my favorite band in an even more meaningful way, and that was well worth the wait.