Livestream report and new release impressions
May 24, 2013
Tuesday at 20:00 Japan time (4:00 Pacific time), Clammbon appeared on Nico Video for their live performance and interview. I dragged myself out of bed, of course, to join in the audience of 40,000. After an hour of classic Clammbon music videos, the band appeared and the performance began. It was tremendous fun to be a part of the enthusiastic crowd scrolling their messages across the screen about everything from their own Clammbon memories to what kind of beverages they were enjoying.
The band played three songs, interspersed with interview segments: U&I by Houkago Teatime, Shiawase Negau Kanata Kara by Izumi Kanata, and… a third song that I can't remember because it was five in the dang morning! The video for Shiawase Negau Kanata Kara was also shown. (Prepare to weep if you haven't seen it yet.)
The interview discussed how the band decided to do another cover album, how they chose the songs, and the story behind the new documentary En. It was pretty excellent to watch the band react to the flood of comments, especially the "8888888888"s that represent applause on Nico Video.
Particularly interesting were the conversations with guests related to Shiawase Negau Kanata Kara, the lead song for Lover Album 2. Yukisada Isao, the director of the video, met Mito via Facebook when they both realized they were big fans of each other. Kousaki Satoru, a well-regarded anime composer responsible for the Lucky Star music, discussed how he and Mito geek out together about anime and comics (including my own beloved Five Star Stories!)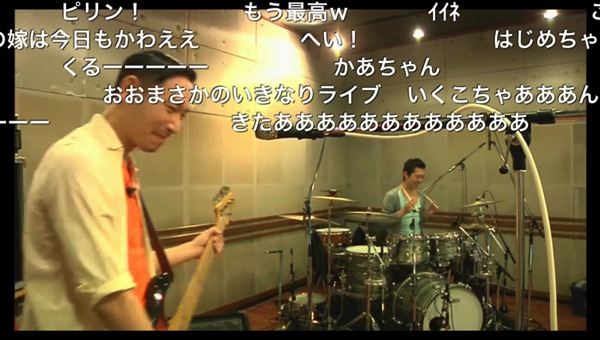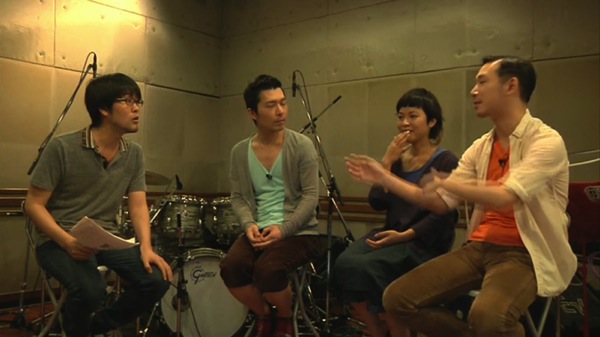 I've had a couple of days to listen to Lover Album 2, and it is shaping up to be just as charming and genuine a love letter to music as the first. I particularly appreciate the energy of Lady Madonna and Desire.
Tonight I got a chance to watch En, and it's a marvelously joyful document of the band's adventures putting together two very special shows. The film interweaves footage from rehearsals at the studio in Kobuchizawa, where they dreamt up unique new arrangements for songs, and the two-night acoustic and electric sets at Yomiuri Land. The finale is one of the happiest, most gratifying scenes of Clammbon footage ever shot. Subtitling all the mumbly studio talk is going to be a huge challenge, but I intend to give it my best just like I did for Tayu Tau.
Meanwhile, I am doing my best to secure tickets to one of the two Clammbon shows at the tiny, 325-seat 5656 Kaikan in Asakusa, Tokyo this August. The lottery system used for ticket sales is stressful and frustrating, especially when you are trying to plan international travel around concerts! My father-in-law has been calling around to try to find me some tickets, and the folks at Hot Stuff told him it shouldn't be too hard to get ahold of some via the lotteries — I find that hard to believe considering there are only 650 seats to go around for the entire Clammbon fandom of Tokyo. I am now signed up for several different mailing lists in order to try as many lotteries as I can. If those all fail, there's always rushing to click faster than everyone else in the general sale, and then there's always Yahoo Auctions. What a Byzantine system.