Trip Report: Clammbon 2016
March 27, 2016
It was certain that I wouldn't get to Japan this year, and that I'd miss Clammbon's tour, the one where they were selling the new album that couldn't be bought in stores. And the signings they were holding at certain shows. And, uh, my brother-in-law's wedding. But at just about the last moment, several events unexpectedly lined up and a trip actually made sense. We went for it.
Normally for such a tour, I'd try to get a ticket for a show in Tokyo, my home base. But by the time I knew I was traveling, The Club Quattro Shibuya show was sold out. So, plan for a long train ride. Shizuoka? Nagano? The best option ended up being the city of Mito, in Ibaraki prefecture. (It helped, in my meaning-seeking brain, that the city's name is a homophone for the name of a Clammbon member.) And unlike the Tokyo show, it included a signing! A quick video call to Tokyo; my father-in-law stepped out to the convenience store and came back with a ticket all while while the Skype line was open.
Kichimu
Harada Ikuko owns a cafe in Kichijôji, Tokyo, called Kichimu. Somehow I'd never made a pilgrimage to this place, sure to be special for a true Dramaticker. This time I was determined to do so.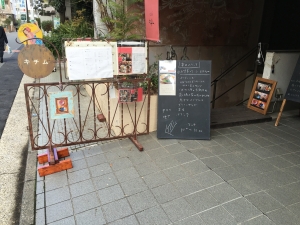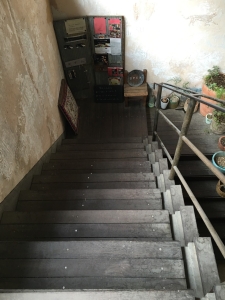 When I sat down in the cafe to await my lunch, I opened my notebook and wrote, "Every surface in this place exudes the playful, peaceful Clammbon spirit." After my meal, I continued, "That soborodon was one of the best things I ever ate. The piping hot rice, crunchy stuff, peanuts, lime, spicy sauce that they warned me about and then I used it all… I could eat that every day." Indeed, weeks later, I still find myself craving it.
It was my first full day in Tokyo on this trip, and the last day of the Haruka Nakamura photo exhibit. They were playing his album Ongaku no Aru Fuukei throughout the space, and an area of the cafe was sectioned off with black curtains for the installation.
音楽のある風景 - haruka nakamura PIANO ENSEMBLE (Official MV) from KITCHEN. LABEL on Vimeo.
The exhibit was titled ∞. It featured 88 photos, printed on fabric, suspended in a figure-eight that you duck into and view from the inside. One photo at a time was also projected onto a wall of diaphanous fabric strips. The combination of the translucent photos, ever-changing projected light, and viewers moving through the space made for an ethereal, ever-shifting experience befitting Nakamura's music.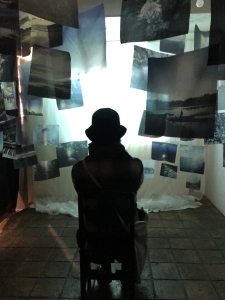 A the front of the cafe is a tiny shop area with a selection of art, jewelry, books, CDs, and so on, all related to or curated by Ms. Ikuko. After carefully scrutinizing every last item, I chose a book collecting the Yamauchi Masumi paintings that Ms. Ikuko has hung from her keyboard over the years, and a set of postcards by Kitamura Norichika.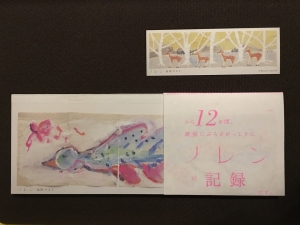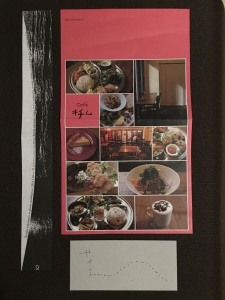 Kichimu Again
I couldn't stay away. On a free afternoon the following week, with that delicious soborodon still hovering in my mind, I headed back to Kichijôji. The Chûô Rapid Line train took me a stop too far, to Mitaka, but walking one station back seemed like a fun idea. It was — the area between these two stations is just lovely. Tree-lined residential streets, boutiques, galleries, the huge Inokashira Park, and even the Ghibli Museum. It all has a more artsy and cheerful feel to it than other upscale neighborhoods like, say, Daikanyama.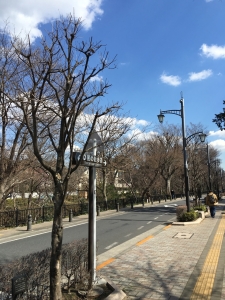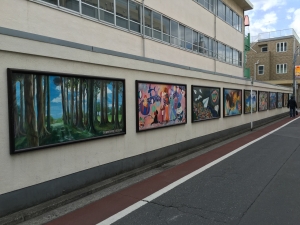 Kichimu is a small operation focused on inventive dishes with fresh, local ingredients, much like hip cafes on the American west coast. The menu is small and always changing. So on my second visit I learned that they only offer the soborodon on weekends, and instead all they had was a clam chowder. That was lovely, too, served with salad, potatoes, bread, and a rich spread. (By the time I realized that the spread was not a dish of its own, I had already eaten the bread. I ate it with the potatoes instead and it was great that way, too.)
This time, on my way out I discovered the little library table. It's populated by books from Ms. Ikuko's personal collection, which patrons are encouraged to pick up and read while they are in the cafe. Magazines, novels, nonfiction, art, and so on. I stood and read a Mito interview, about how he got into progressive rock and Five Star Stories, in a special Clammbon issue of Eureka. (His reason was the same as mine: used prog-rock LPs were cheap when he was a kid!)
On this second visit, the music selection was raw, rootsy folk standards. I discovered from a sign on the wall that for the entirety of 2016, apart from special events like the Nakamura exhibition, music in the cafe was selected by the band Tenniscoats. This about knocked me over because just a few days earlier I'd discovered (and met) Tenniscoats at their very intimate collaboration concert with Aoba Ichiko. That show was a very special experience indeed, and a story for another time.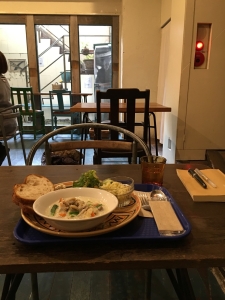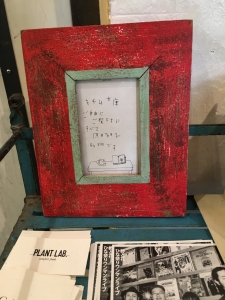 Desperado
When in Shibuya to meet up with a friend, I did make my regular trip to Desperado to see if there was any Spoken Words Project. The excellently-attired fellow there advised me that all they had was one dress, and that they were expecting new pieces soon. He was curious how I knew of the label, so I explained the connection to Clammbon and to Harada Ikuko.
Clammbon at Light House Mito, March 4 2016
The cushy, 100-minute Hitachi-gou express train took me from Tokyo to Mito, the capital city of Ibaraki prefecture, on the day of the concert. I had most of the day to explore the city, and I came to love its micro-Tokyo charm. (You can wander Mito with me on Instagram.) The merchandise tables opened at 17:00, outside the venue — an important detail on this particular tour. Clammbon is experimenting with an increasingly self-contained and self-sustaining business, to the point that their latest CD, Moment, is available at concert merchandise tables but not at record stores nor on the internet.
I withdrew some extra cash at the 7-11 on the corner, a comically simple process compared to the ordeal it used to be to get cash from a foreign account in Japan. The staff confirmed that I could buy as many copies of the CD as I liked, so I picked up one for myself and three for friends. Plus a T-shirt designed by Ka na ta, a brand that the band has been wearing on stage lately and that has a showroom at Kichimu.
Audients waited outside in the cold, around one of the city's several statues of the legendary feudal lord Mito Kômon, and were let into the standing-only venue one by one according to the letter and number on our tickets. The staff person called out A1, A2… up to A150, then B1, B2, et cetera. My ticket was… C117. Quite close to the end of the 350-person capacity. But a lot of people had gone up to the balcony, and near the back of the floor was still quite close to the stage indeed.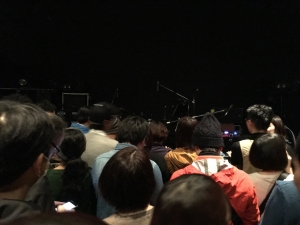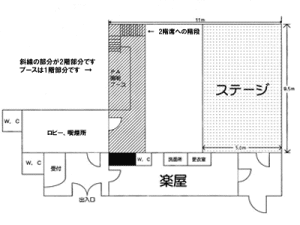 Floor plan from Light House Mito official site
We were really crammed in there. Several times the staff asked us to all take a step forward, when we were all already closer together than if we'd been on a rush hour Yamanote Line train. Within minutes it was sweaty hot. Once the lights went down and Clammbon took the stage, Mito high-fiving Mito, of course nobody cared.
Set List
Surround
GOOD TIME MUSIC
Re-Mellotron
(First chat)
Kisetsu
Filament
Flight!
yet
KANADE DANCE
Chicago
Re-Aru Kodou
(Encore break, second chat)
Musubi no Uta
Slight Slight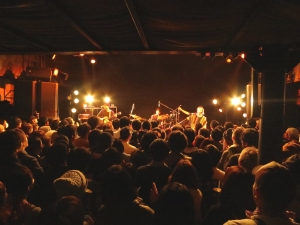 Official photo from Tropical. I'm visible on the right!
For a few favorites — "Surround", "GOOD TIME MUSIC", "Chicago", and "Re-Aru Kodou", I believe — the audience was lit so that the band could see and interact with them, just inches away. The first words that Clammbon had to say to us were from Ikuko: 近い。どこ見ればいい?慣れよう。 — "So close! Where am I supposed to look? I have to get used to this." Several times it felt like Mito or Ikuko was smiling directly at me, absorbing my enthusiasm. Were they really…?
"Re-Mellotron" was a first for this tour, and the one unusual choice considering its theme of January snow. "Yet" was the sole song from triology, though I'd been hoping to hear "Agitator". "KANADE DANCE" served its usual role as a sort of centerpiece. And the set included the entirety of the new EP, Moment.
In the spirit of getting closer to their fans, The band spent a lot of time chatting with the audience. After some banter about the intonation of Mito the musician versus Mito the city, the first chat session was largely about their experience in the music business and their experiments with opting out of the normal way of doing things.
Mito gave a breakdown of where the retail price of a major-label CD goes — recording, marketing, manufacturing, distribution, sales, &c.… In the end the artist gets 5%. But after 20 years of building their business, Clammbon can do a lot of that themselves. They can record at their own studio. They already have dedicated fans, and their side projects get their names in articles and on TV, so there's no need for the big marketing budget. (Mito does a lot of anime music, Daisuke is teaching, and Ikuko does commercials.) And instead of selling in record stores, why not bring the CDs along and sell them at the shows, if they're touring across the country anyway?
Ikuko likened the model to farm-bought produce. She loves lotus root (Mito: "Last time it was carrots!") and she found that she could get it fresher and cheaper by buying it at the farm. Plus the bonus of seeing the place it came from and meeting the people who grew it. A big part of the idea is for people to come to the show, hear the fresh new songs, and if they liked them, buy the new CD.
The model seems to be working — the farm-direct Moment has made as much profit as if it had hit (I believe) #4 on the Oricon chart! In contrast, triology reached #13, and Clammbon's highest chart position ever was #11, for 2010. Where does all that money go? Mainly back into the music: high-end equipment, studio space, &c.
The second chat session was about finding more places to sell the CDs. At first the idea was that they'd be for sale only at venues on the day of a concert. But over time local businesses — cafes, restaurants, clothing shops, galleries, and even a few record stores — have been carrying it too. There were survey forms at the show, with fans invited to submit ideas of eclectic places that might be willing to sell the CD. Lately the official Clammbon Twitter account has been overflowing with announcements of shops carrying the album. Mito joked that maybe they should have called this the "Where Shall We Sell" tour, in the spirit of their past "Where Shall We Play" tours.
Clammbon had recently written and recorded the ending theme for the new Shinkai Makoto anime She and Her Cat, which Mito explained that they couldn't play live yet, because it was just airing for the first time later that night. One audient informed Ikuko that it wouldn't actually air in Ibaraki until two days later, so we couldn't go home and watch it just yet.
It was a little strange for the encore to consist of two new songs, and for there to be no "Vital Sign", but it was important to the band to play us the entirety of their new CD so that we could judge for ourselves whether to buy it. Plus, time was limited as there was still a signing to do! The new songs were captivating, and covered a wide range of styles and instrumentation. The audience was just as enthusiastic for this new and unfamiliar material as we were for the old favorites.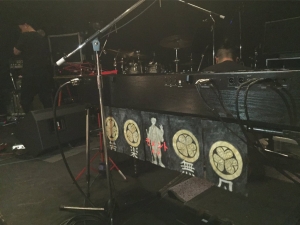 A very special Mito Kômon noren for Ikuko's keyboard, by Yamauchi Masumi. Photo by @tsubametachi.
For the signing, everyone was sent back outside. This was a perfect time to redeem the mandatory drink ticket you paid ¥500 for on the way in, but didn't have time to redeem while rushing to get a good spot. A cold Yebisu under the statue of Mito Kômon was just the thing to cool down from that sweaty room. Anyone who bought merchandise and had a ticket to the show was given a card with a number on it; another number-calling ritual began.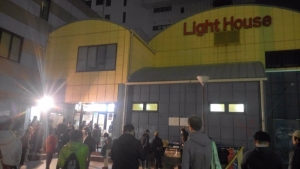 Photo of fans waiting for the signing (including me!) by @Ruby_S_Arms
My number — 92, I think — was called. I went. Just inside was a little table, and Clammbon was there. Sitting here in my bed in the USA now, typing this on my phone, my mind stumbles, trying to believe it. But I have the memories. I have the tweets. And of course I have the autographs.
First was Mito. He about fell over when he saw my Dramatickers shirt.
(The following exchanges all took place in Japanese, of course.)
"Your shirt! That's amazing!" "Is it!?" "Dramatickers, huh? Wow!" "Yeah! It's from 2002, Shinjuku, at Liquid Room." "2002, wow. Liquid Room… it must have been with Toe?" "With Rovo, actually." "Rovo! Right. Well, thank you very much for coming out." "Thank you."
Mito shook my hand briefly, then angled around for a strong homie handshake, while delivering another impassioned "thank you."
Daisuke, as expected, was reserved. He signed, shook hands, and said a sincere "thank you."
Ikuko greeted me with a huge, excited smile and wiggle, as if she'd been surprised at work by an old friend.
"Dramatickers!" "Haha, yep!" "That's great. I was watching you." She pointed to her eyes and then to me. "You were?" "I saw you singing." She flapped her hand like a puppet. "I was." As she drew the little character that serves as her autograph, I added, "That's cute!" She gave me a smile and a handshake, and said, "Let's meet again."
That was it. My dumbfounded banter may have been weak, but the atmosphere was of gratitude and joy. The band made an effort to make everyone feel welcome and appreciated, and every face was smiling. And while I didn't want to slow down the line by talking about this site, it was gratifying to have been seen and acknowledged, to know I'd made a small impression. Perhaps when I write in to request consideration for foreign fans as they develop their direct business model, I can mention that I was the foreign fan in the classic shirt at Mito, and they'll remember. That would be nice.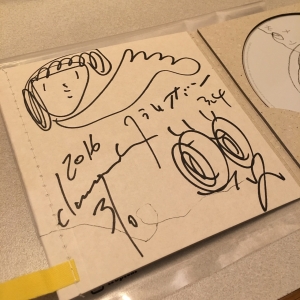 Chûkasoba Suzuki
Mito's love for noodles is well-known; he appears at various ramen establishments in the band documentaries and on social media, sampling each city's best offerings over the course of a tour. When during a chat session he mentioned that he'd been to a place called Chûkasoba Suzuki that day, the crowd murmured approval. So the next day I hunted it down.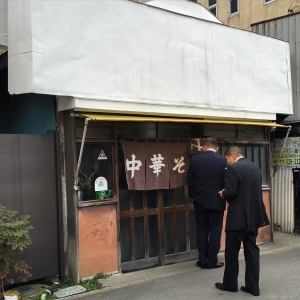 The place is barely labeled; just a fabric drape in front of the doors that says 中華そば — "Chinese noodles". I gathered the courage to go inside, where a woman who very well could have been there since the place's founding in 1960, said, ラーメンしかないけどそれでいい? — "All we have is ramen, you want some?" I agreed and sat at a tiny table, surrounded by patrons of advanced age slurping their noodles and saying nothing. A man gave me a nudge and quietly encouraged me to use the stool at his table to set down my bag. Eventually my ramen showed up: the most standard, classic bowl of it you can imagine.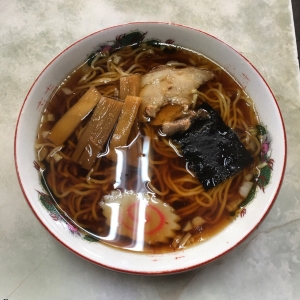 It tasted perfectly ordinary. I brought the bowl to the lady when I was done, as I had seen others do. She accepted it and unceremoniously asked me for ¥250, about $2.25. I handed her the coins, which she took with one hand while stirring a pot with the other.
It was an experience to remember. But it was not especially filling. Ninety minutes later I had a big bowl of shio châshûmen at Ajihei.